Welcome to the 2021 Season!
There is no escaping that the start of the 2021 season has been an unusual one for all of us! COVID restrictions impacted a lot of the early season fishing with movement restricted and a flat ban on travel to Scotland up until recently. This meant many of our guests were simply unable to get here to fish. Huge floods in February reduced the number of viable fishing days on a lot of rivers in Northumberland and the borders. Immediately following this there has been unseasonably low water throughout April and early May. This has made fishing tricky, seeing us resort to tactics usually reserved for high summer low water tactics. Now onto the good news!!!
We have had a recent lift in water with some heavy rain which has encouraged the fish holding in tidal reaches and the open coast to start their journey and push into the rivers on the spates. The fishing over the last week on the River Whiteadder has been world class with spring fish taking advantage of the highwater and running through to pools on our private stretch on the Whiteadder. James has had a number of incredibly successful sessions trying out all parts of the water with a range of techniques. Skating small dressed doubles across the pools he watched as eager spring fish launched themselves from the depths erupting on the surface to take his fly. These tactics saw two stunning shimmering silver fish taken in under an hour. On a guide's day James ran for Tom to show him the intricacies of the water he used his huge depth of guiding knowledge to tactically put Tom onto a fish that could very easily have been missed by a lone angler. This was taken using a size 10 dressed double on a single handed trout rod! Fantastic sport on an unbelievably beautiful piece of water that you have completely to yourself.
The saltwater fishing is starting to pick up too. After a strong winter with good runs of cod right through until mid-spring the summer species are starting to arrive after their spawning. Tom has been out trying new venues for this years guided saltwater sessions and has had some great sessions targeting local beaches catching Turbot, dab and flounder. Bass catches are on the increase along the NE coast and as the water warms the Seatrout are starting to move into their inshore feeding areas where they are targetable on lures and the fly. It will be another few months before the rock marks start to produce strong fighting Pollock and Wrasse.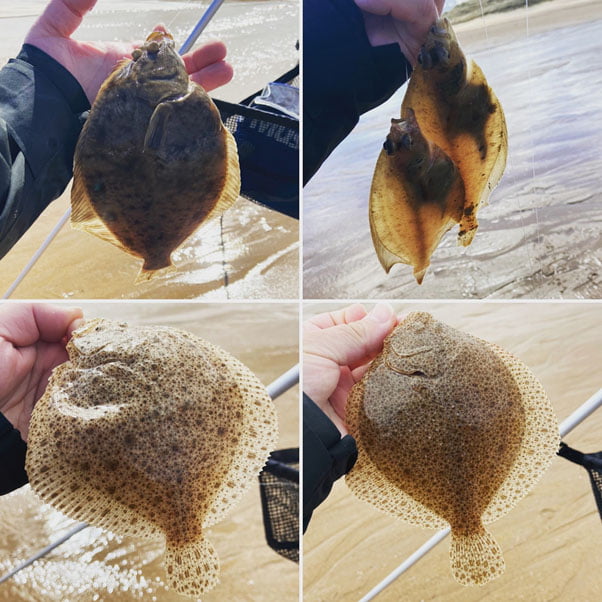 We are all looking forward to welcoming old friends and new this season. Our diaries are nearly full but there is some limited availability and we occasionally have cancelations. If you have any enquiries about any of our guiding services, we would love to speak to you, please get in touch via the contact page. We hope to see you on the bank or shore soon!
Thanks!
Chasing Fins Team